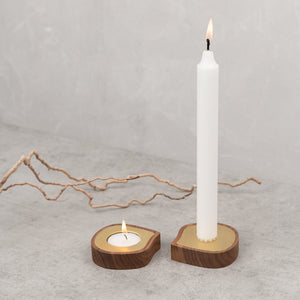 Walnut and Brass Candle Holder
Sale price Price $35.00 Regular price Unit price / per
Tax included.
Shipping
calculated at checkout.
The Walnut and Brass candle holder is a stunning piece that combines natural wood with shiny metal for a modern and sophisticated look. This holder is versatile and designed to accommodate both taper candles and tea lights, making it a practical addition to any home decor. The smooth and polished brass base provides a sturdy and durable foundation, while the warm and rich tone of the walnut wood adds a touch of elegance and warmth to your space. The contrast between the two materials creates a visually appealing effect that will enhance the beauty of any candle. Whether you're using it to create a romantic ambiance or to simply add a touch of style to your decor, this holder is a perfect choice. So if you're looking for a versatile and stylish accessory to complement your candles, choose the Taper Candle or Tealight Holder in Walnut and Brass.
The tealight holder is suitable for 38 mm (1.5 in) diameter and 15 mm (0.6 in) high tea candles.
Taper candle holder suitable for 22 mm (7/8 in) diameter taper candles.
SIZE: 7.5 x 7.5 x 2 cm (3 x 3 x 0.8 in).
CLEAN AND CARE: Clean the wooden part with a damp cloth and the metal part with a dry cloth. The brass part is un-lacquered. Item will develop a natural patina as it oxidizes, but we think that this enhances the beauty of the product as it is the nature of the material. Do not leave it soaking in water.
Made from natural materials, color, and grain may vary.