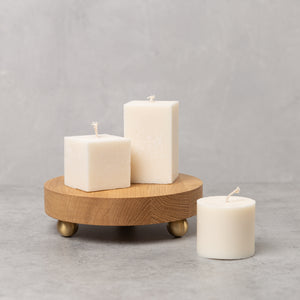 Rapeseed Wax Pillar Candle
Sale price Price $25.00 Regular price Unit price / per
Tax included.
Shipping
calculated at checkout.
SIZE: 5.5 x 5.5 x 5.5 cm or 5.5 x 5.5 x 9 cm (2.2 x 2.2 x 2.2 in or 2.2 x 2.2 x 3.5 in).
COLOUR: off-white.
MATERIALS: natural rapeseed wax.
BURNING TIME: about 14 hours (small) and about 22 hours (large).
Rapeseed wax is one of the most sustainable and innovative choices when choosing candles:
- The wax used for candles is extracted from rapeseed grown on ethical European farms.
- Does not emit harmful substances when burning.
- Ensures a longer burning time, thus contributing to the reduction of consumerism.
The Rapeseed Wax Pillar Candle is a beautiful and eco-friendly addition to any home. Made from natural rapeseed wax, this candle burns cleanly and evenly, filling your space with a warm and inviting aroma. The rectangular or cube shape of the candle adds a touch of modernity to your decor, while the smooth surface and gentle curves create an elegant and minimalist look. The neutral color of the candle complements any home decor and adds a cozy and soothing atmosphere to your space. Whether you're using it to create a relaxing environment or to simply add a touch of style to your home, this candle is a perfect choice. So if you're looking for a beautiful and eco-friendly candle that will enhance the beauty of your space, choose the Rectangular or Cube Shape Rapeseed Wax Pillar Candle.
IMPORTANT. Burn the candle for 3-4 hours each time and then extinguish it. In this way, the candle will heat up and melt evenly, thus preventing it from burning down the "tunnel".